NEXT SEASON!
Webster will also field house teams at the 12U and 16U/19U levels. The 12U team will be coached by Kaley Ostanek, former RIT hockey player.
Teams will focus on skill development, friendship, sportsmanship and most of all fun!
For questions about Webster Girls Hockey, contact Gini Weslowski at 615-4044 or 218-5256
WEBSTER 14U is Strong in GLGHL 2008 Playoffs
3/15/08 Webster 14U girls take 1st place in the GLGHL 14U Team skills competition, and placed 3rd in the GLGHL 14U Playoffs. In the double elimination format with 7 teams, Webster lost to the 3rd seed Camillus, won against the 5th seed Niagara, and then defeated the 2nd seed Skaneateles. Webster lost to the 1st place Hamburg Hawks (4-1). Great work girls!
WEBSTER GIRLS ARE STATE CHAMPIONS!
The 2006-2007 14U Tier II State Champions! The 2006-2007 12U Tier II State Champions! The 2006-2007 16/19U GLGLHL Champions! The 2006-2007 Queen of the Rings 14U Champions! The 2007 Sarah Backstrom 14U Champions!
Since its inception Webster has focused on player and team development. Nothing new to Webster, the focus on teamwork and player development leads to success: winning games and championships, as well as individual growth.
We have the area's only girls beginner program, going into it's third year, as well as the only "Try Hockey" program for girls of all ages.
We have a girls house program that develops skills and sportsmanship in a fun environment!
JOIN WEBSTER GIRLS HOCKEY!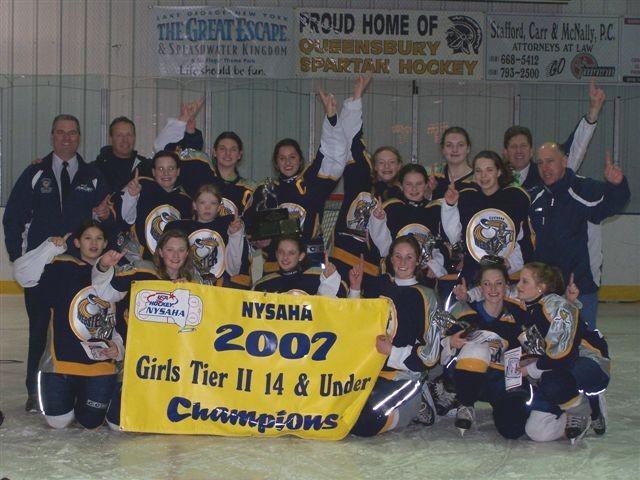 Webster 14U Team wins GLGHL 19U Playoffs!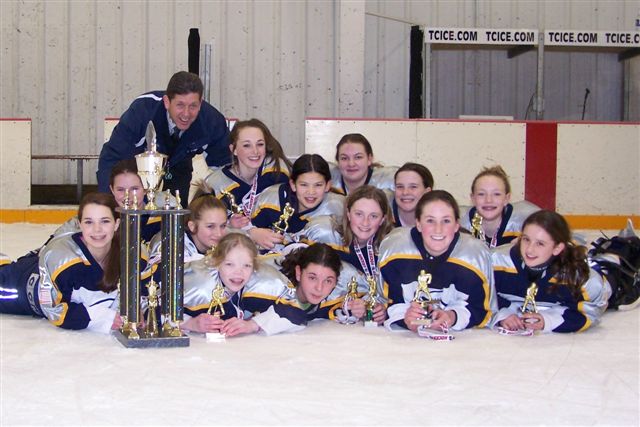 Webster 14U Takes Erie Championship!
The Webster Girls 14U Team took 1st place at the Sarah Backstrom Tournament in Erie, PA earlier this month, winning all 4 games (25 goals for and 0 goals against).
Monroe County's First Girl's High School Hockey Game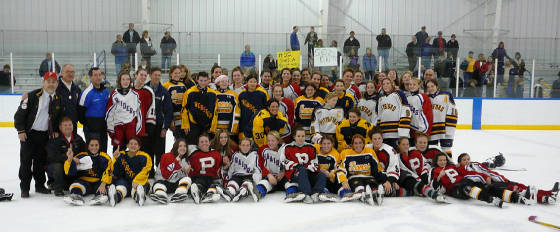 Girls High School Game Participants
Girls Development Program
Webster Girls Hockey is offering a girls-only development program for the upcoming season. Webster coaches, skills development PLUS scrimmages!
CLICK HERE
for more information or to register!
DONATE YOUR OLD HOCKEY EQUIPMENT!
The Webster Girls Hockey Program needs all types of hockey equipment. This equipment will be used for the Girls Try Hockey program. Donate your outgrown equipment to a good cause! See John at the Webster Ice Arena or contact Gini (218-5256; gini@rochester.rr.com) or Michelle (787-2633; Michele.thompson@eds.com). Pads, helmets, skates, sticks, pants, gloves etc We need it all!
Webster Girls Hockey succeeds because of: